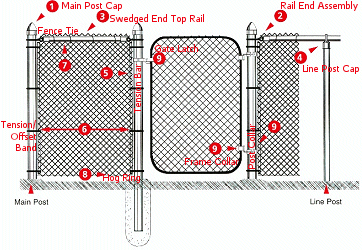 To make sure you get all material required, draw a detailed diagram of property to be fenced, like the diagram below. Indicate all post and gate locations. Gate size is determined by the distance between the two posts it occupies, not the gate's actual measurement.
A main post is required wherever a change of direction is made in the fence, or change in the elevation of the Top Rail.
Set Corner, Gate and End Posts in cement. Posts should be set out of the ground 1.5" higher than the height of the fence fabric used.
Set line posts in cement at a height of 1.5" lower than the height of fence fabric used. Height of posts can be lined up with a mason's line.
Install Line Post Caps, Top Rail (cut to fit) and Rail End Assembly.
Affix fence to posts, using Tension Bars and Offset Bands. Fasten fabric to Top Rail and Line Posts with Fence Ties.
Run Bracing Wire through the bottom of the fence and attach with Hog Rings.
Recommended Tools List
Post Hole Digger
Wheelbarrow
Shovel
Tape Measure
Level
Plumb Line (String)
Pliers
1/2 in. or 9/16 in. Wrench
Hacksaw or Pipecutter
Stakes to lay out project